Requests for Authorization
Claims administrators designate one of three ways to receive Requests for Authorization (RFAs) faxed by providers:
1) directly to the handling adjuster
2) to a central utilization review department
3) to the claim handling location
Sending RFAs to the correct route utilized by the claims administrator helps ensure RFAs are processed timely.  Managing these RFA fax numbers can be complex, luckily daisyAuth does it for you!
The first time an RFA is created for an injury, or the first time a new RFA is created after a claims administrator has been changed on an injury, daisyAuth automatically prompts you to enter or select an RFA fax number.
Lucky for you, daisyBill has obtained the best RFA routes for most claims administrators! Read on to see how each of the three options appear on RFAs.
Adjustor
When a claims administrators requires RFAs to go straight to the handling adjuster daisyAuth will let you know and require an adjuster name and fax number.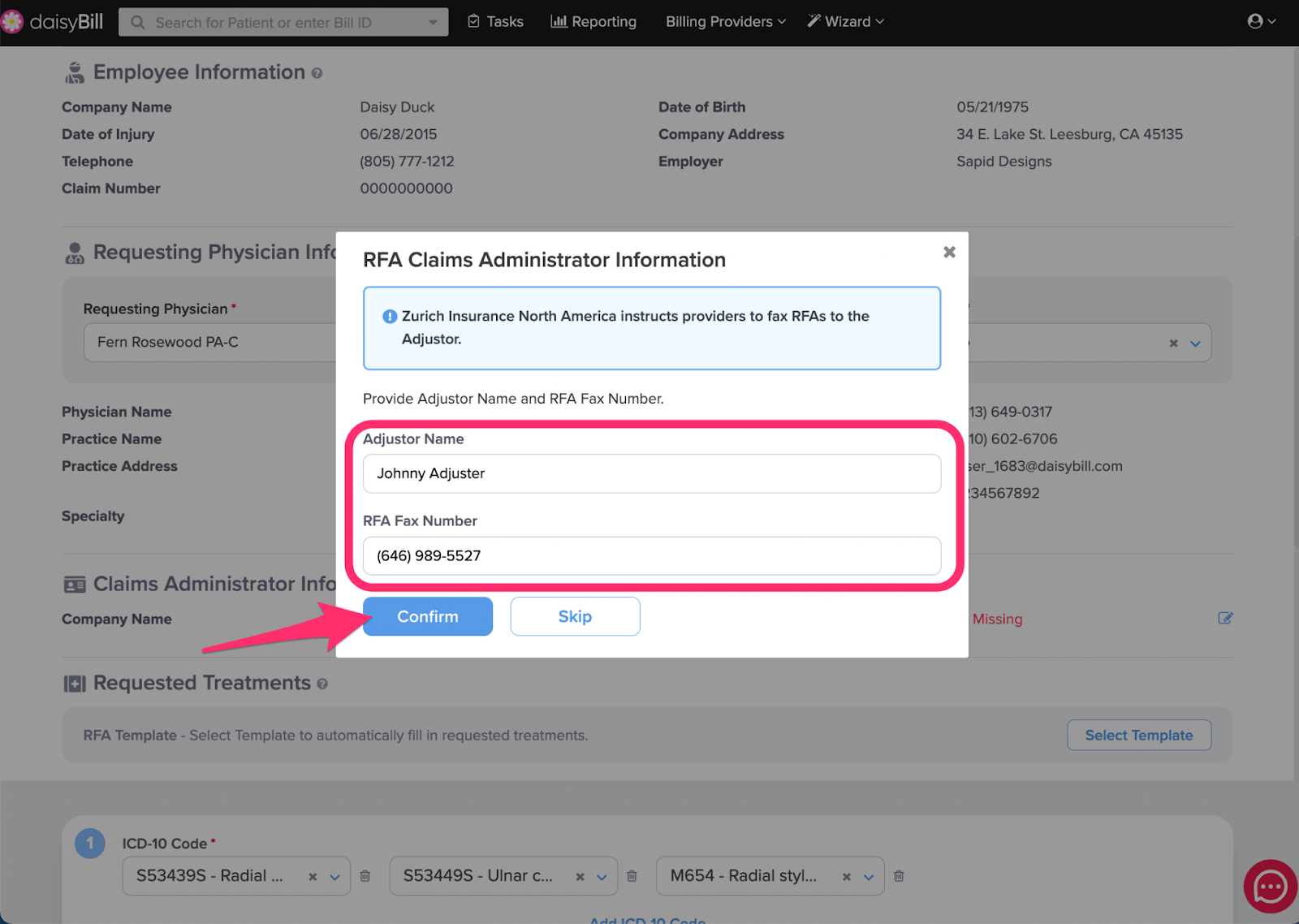 Central RFA Fax Number
When a claims administrator utilizes a Central RFA Fax Number daisyAuth will provide that verified number.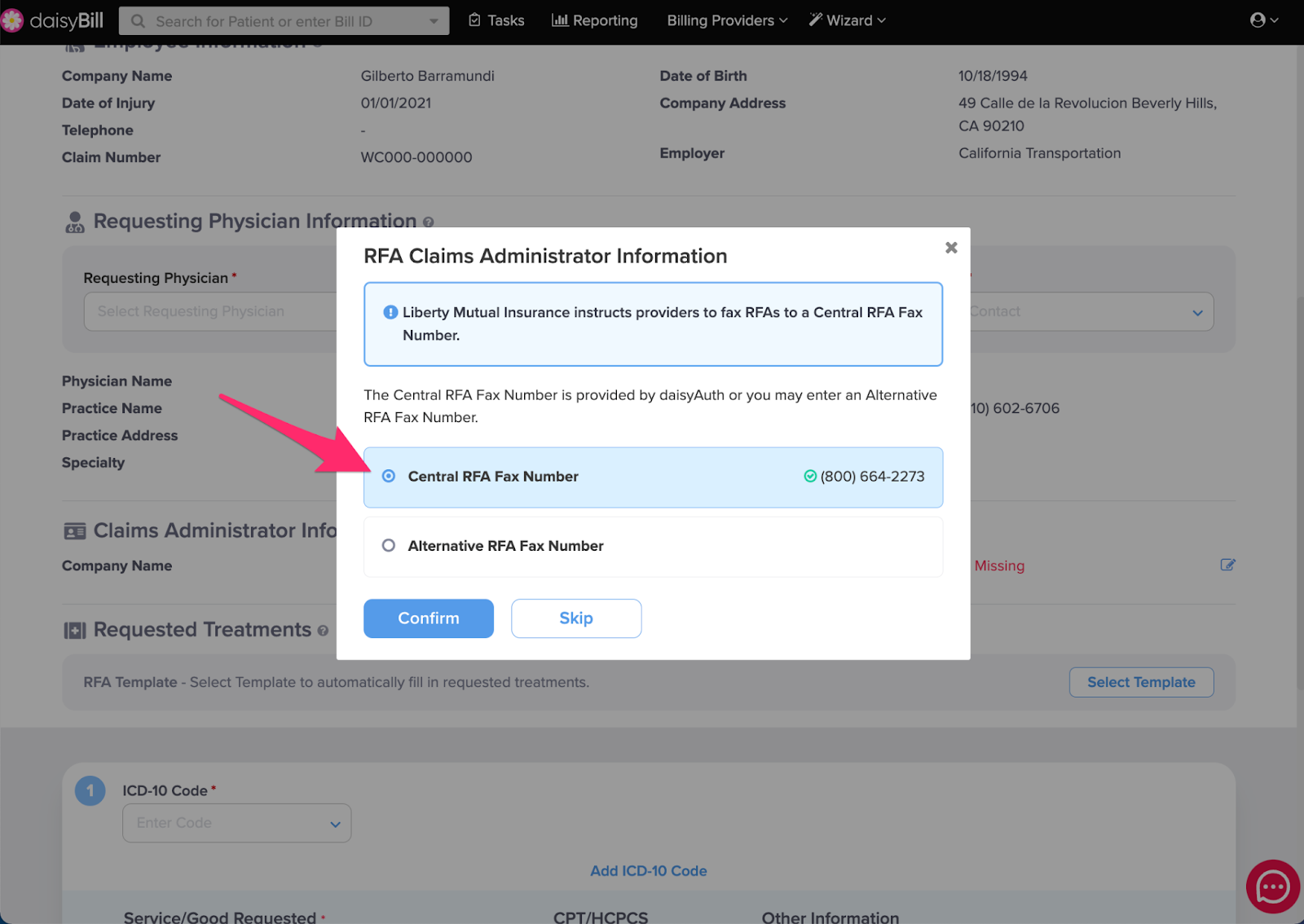 We suggest using the designated central fax number provided. However, if you wish to send your RFA to a different fax number, select 'Alternative RFA Fax Number' and then select 'Confirm'.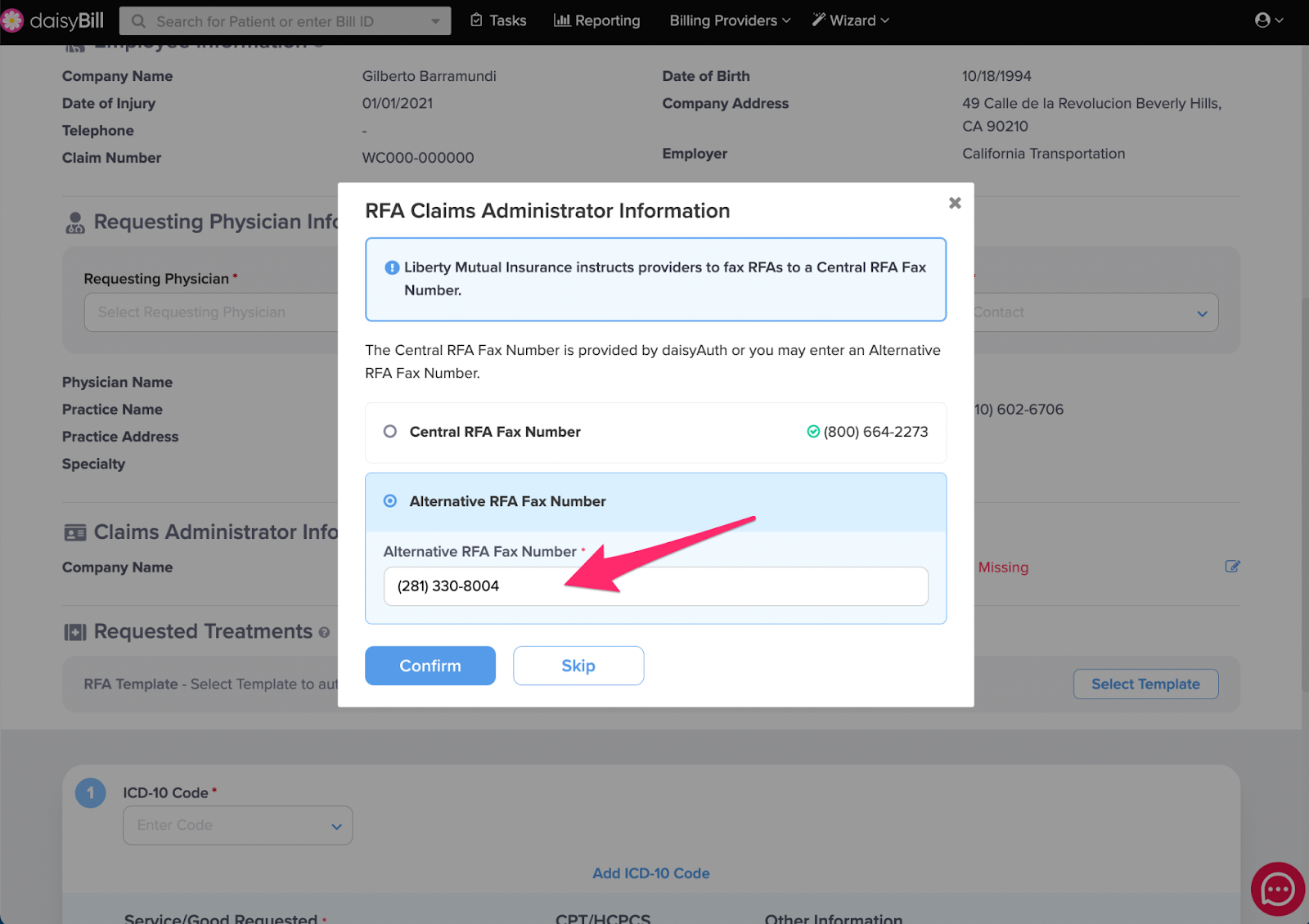 Claim Handling Location
When the claims administrato utilizes different RFA fax numbers based on claim handling location daisyAuth will display the fax numbers for each claim handling location. In this instance, you will need to determine which claim handling location is correct for your patient/their employer. You many need to call the claims administrator to determine the correct claims handling location.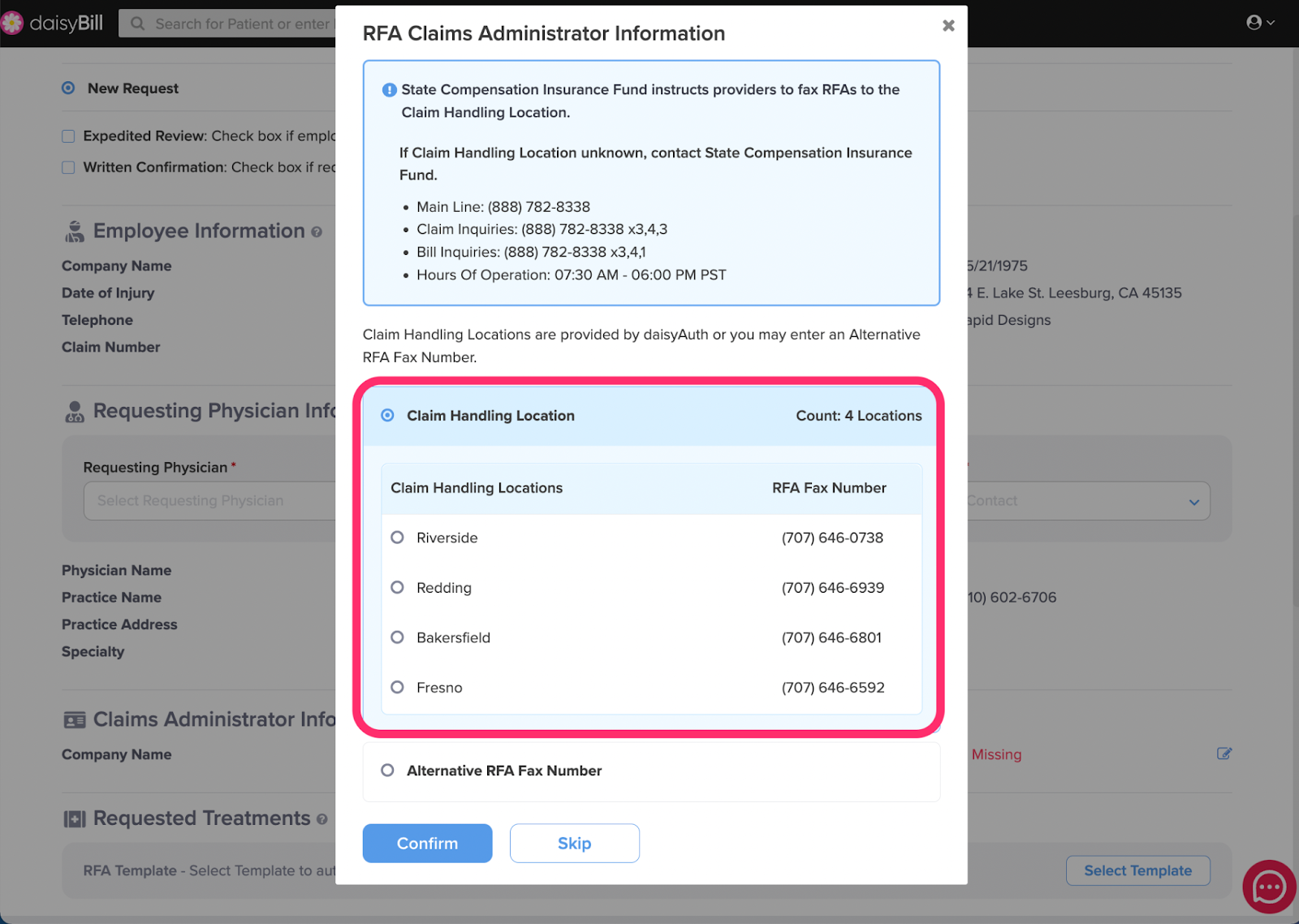 If you prefer to send your RFA to an alternate fax number than what is provided in daisyBill, select 'Alternative RFA Fax Number'.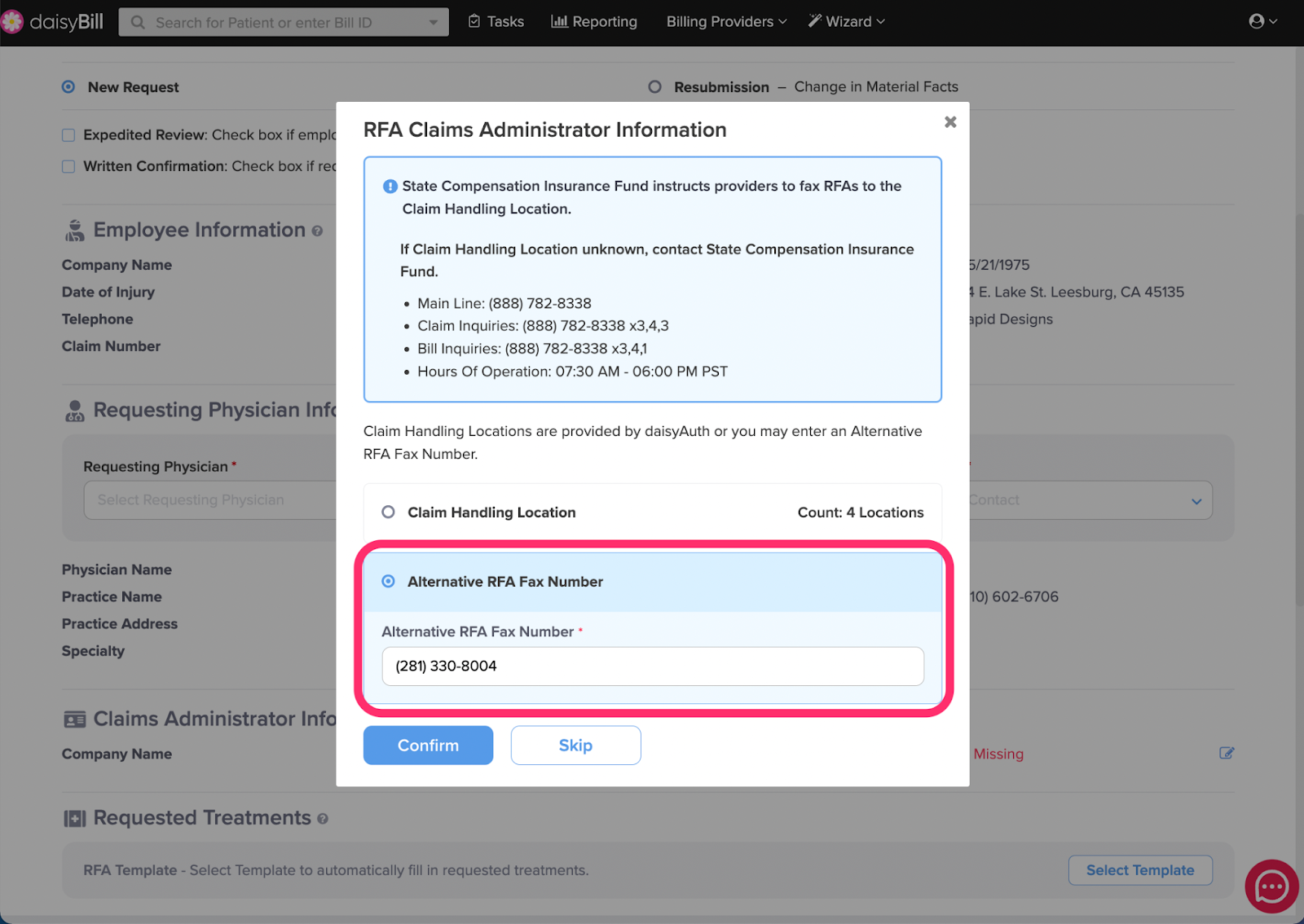 Obtaining authorizations has never been easier!