The Pharmacy Fee schedule can be looked up using the California DWC Workers' Compensation Pharmacy Fee Schedule - Compound Prescription. However, whereas the DWC calculator does not provide historical reimbursement information, daisyBill's Calculator does.
Even though the DWC requires a date of service to calculate the reimbursement for an NDC number, only reimbursement for new and existing NDC numbers is displayed. The DWC does not display expired NDC numbers. An expired NDC number will not return reimbursement, even if it was valid for the date of service provided. Unlike the DWC, daisyBill's Calculator has NDC reimbursement information for all dates of service from March 2007.
To use the Pharmacy Calculator to calculate Compound Pharmaceutical reimbursements and dispensing fees, follow the instructions below.
Step 1. Select 'Pharmacy'
On the OMFS Calculator page, Physician Services is automatically selected.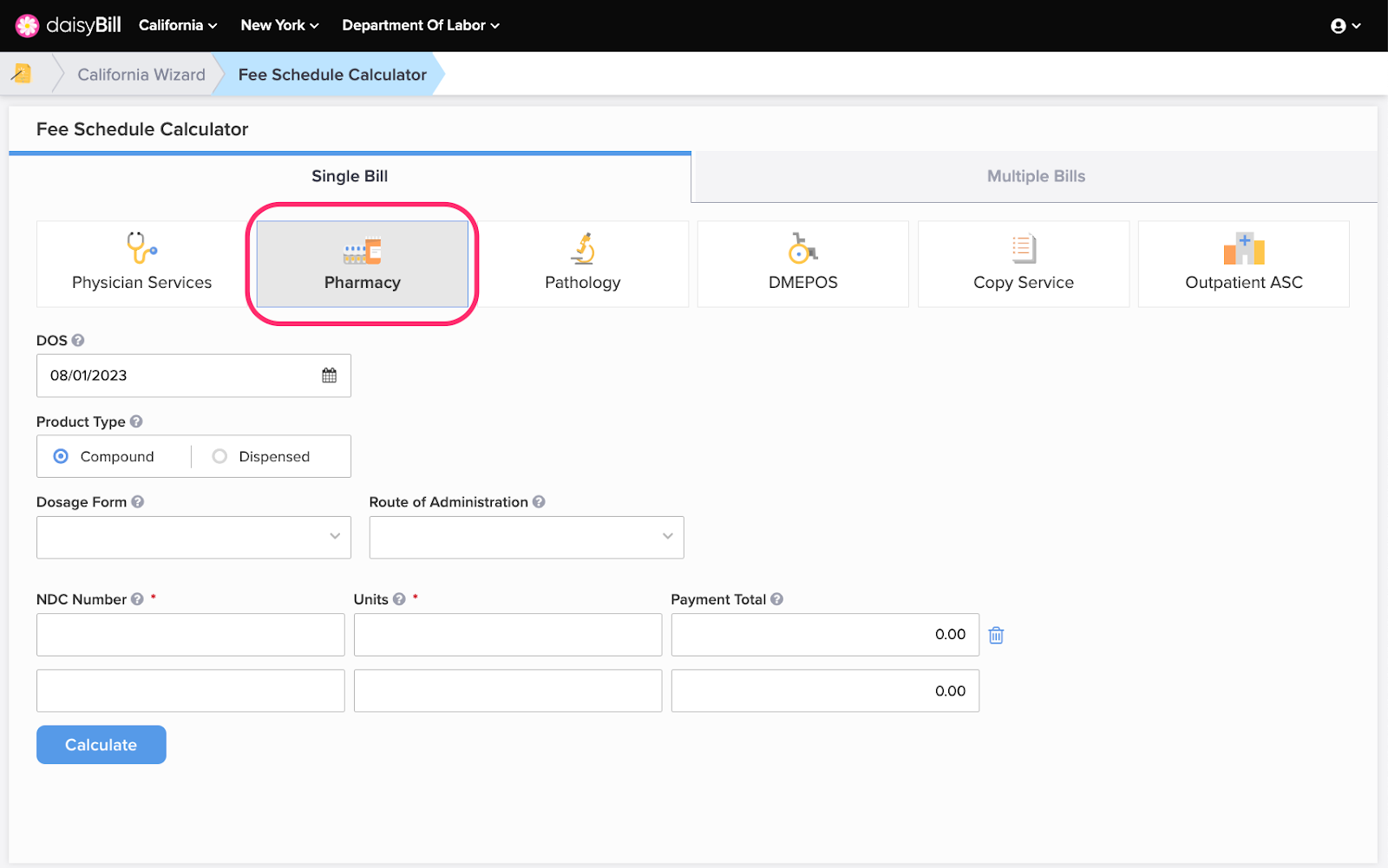 Step 2. Enter 'DOS'
An accurate OMFS reimbursement amount requires the Date of Service, because OMFS reimbursement amounts are calculated using the fee schedule(s) in effect on the date the services were rendered.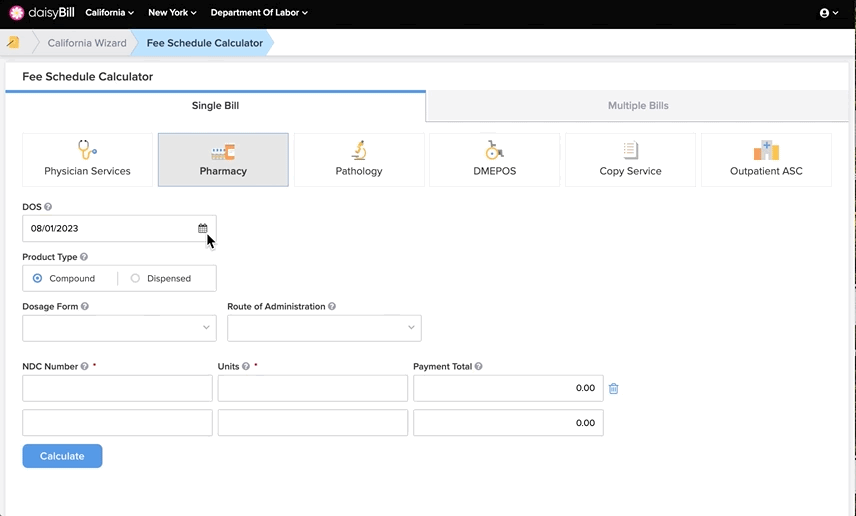 Step 3. Select 'Product Type'
Select Compound to calculate the reimbursement and dispensing fee for Compound Pharmaceuticals.
For help calculating a single dispensed pharmaceutical see the Help Article: Pharmacy (Single Prescription).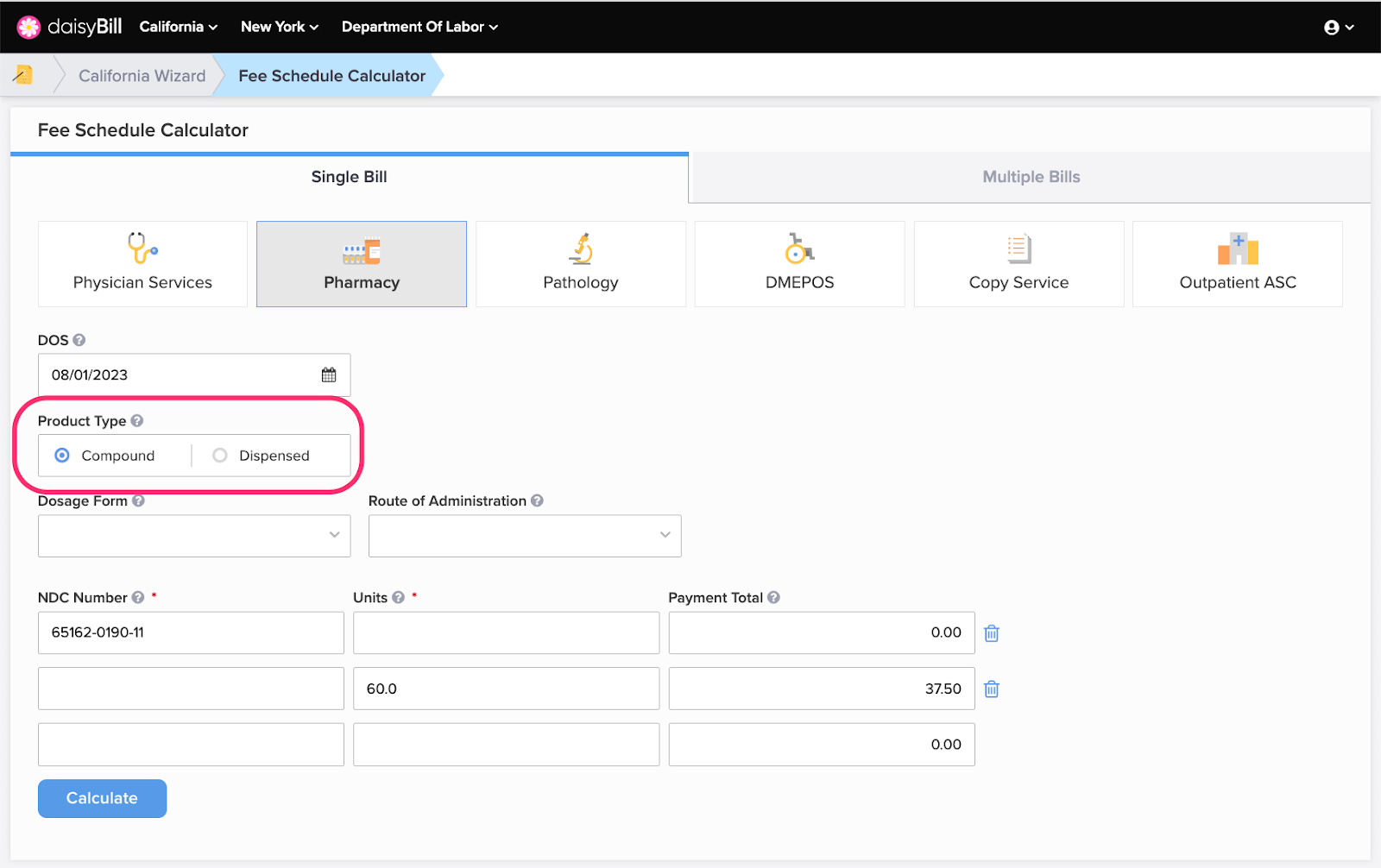 Step 4. Select 'Dosage Form'
The Dosage Form is used to calculate the correct dispensing fee and is displayed in field 90 of the NCPDP form.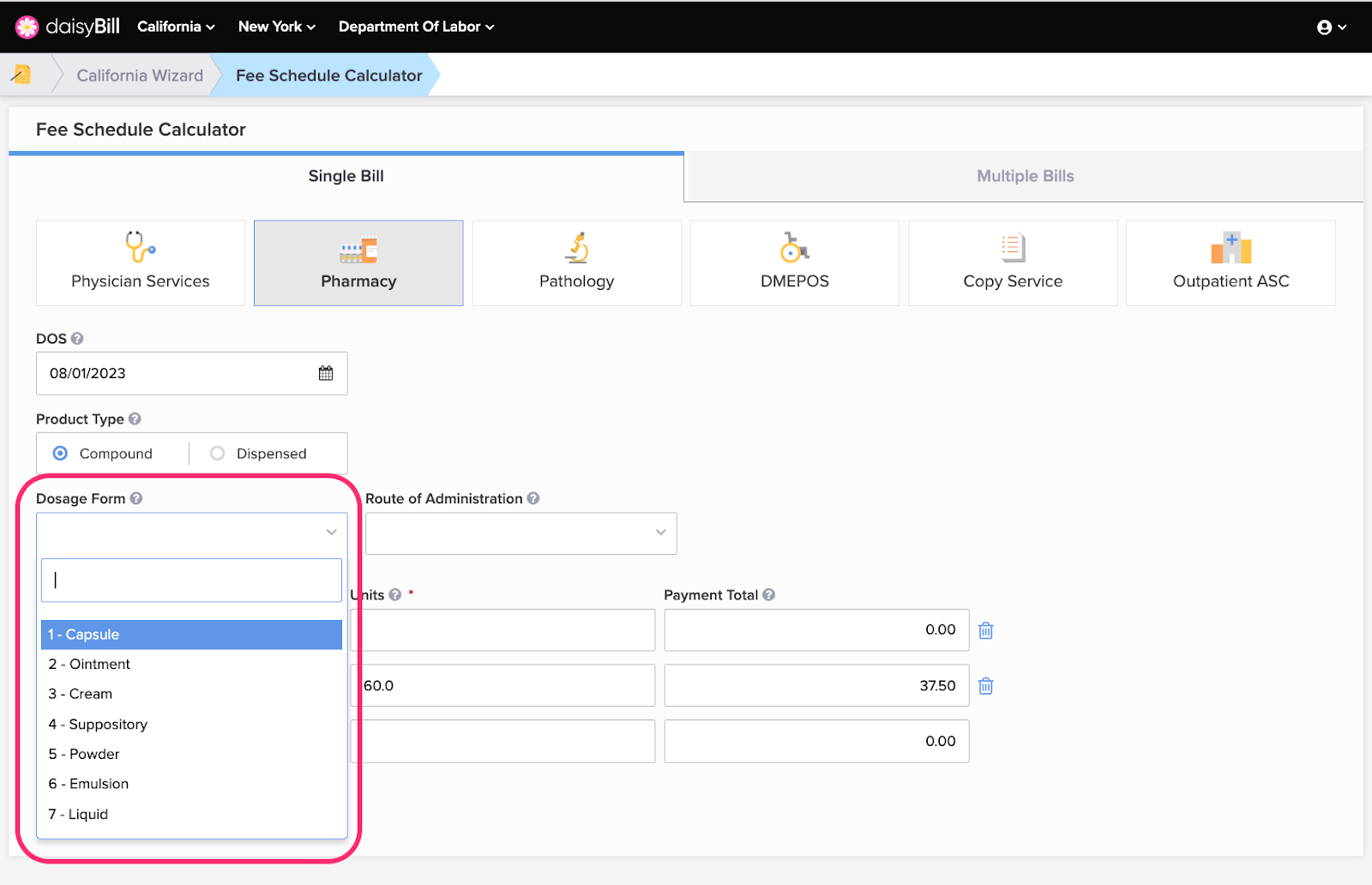 Step 5. Select 'Route of Administration'
The Route of Administration is used to calculate the correct dispensing fee and is displayed in field 92 of the NCPDP form.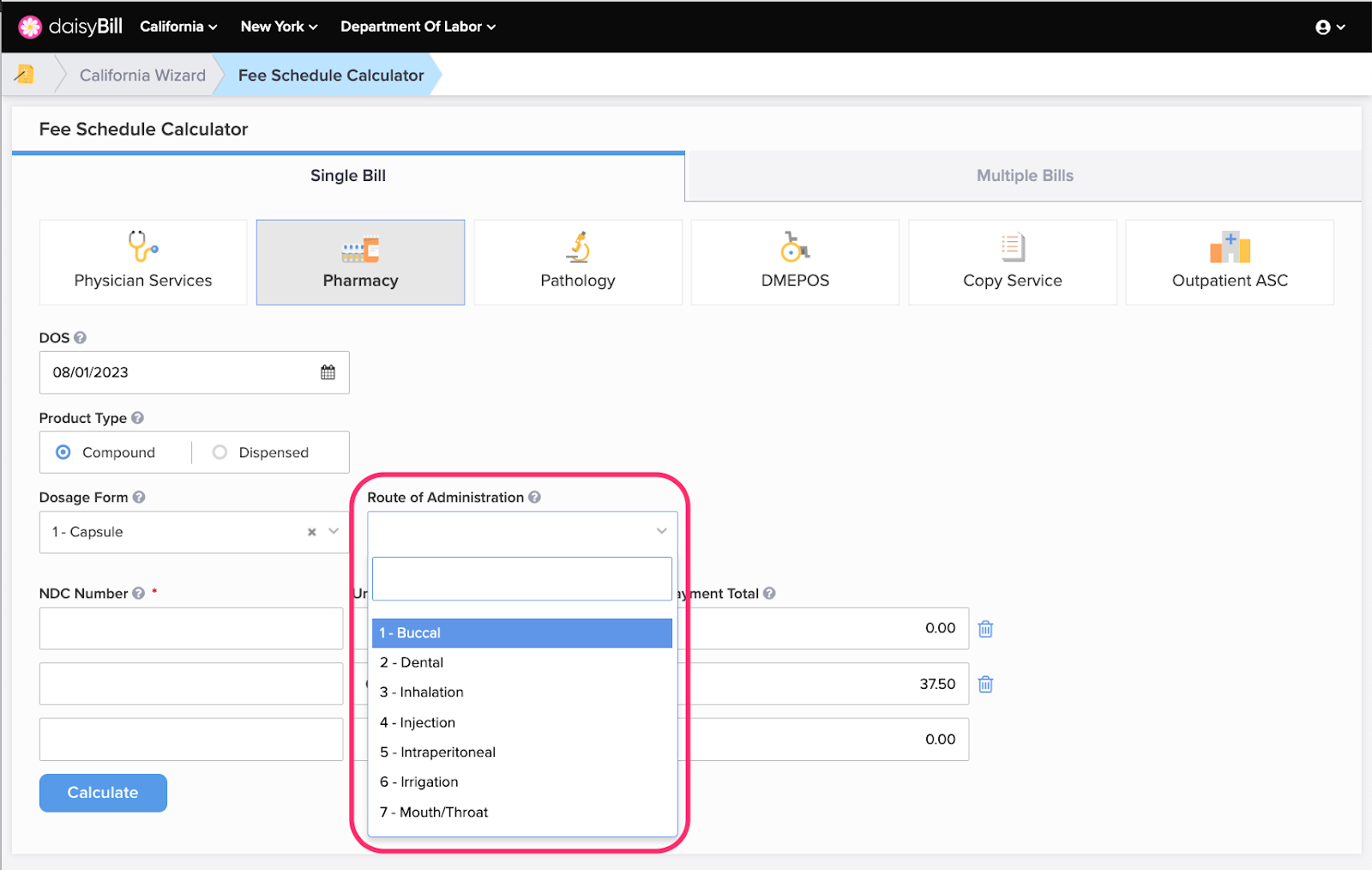 Step 6. If required, enter 'Number of Containers'
Enter the Total Number of Containers dispensed to patient. The Total Number of Containers is used to calculate the dispensing fee and only appears when required by the Route of Administration selected.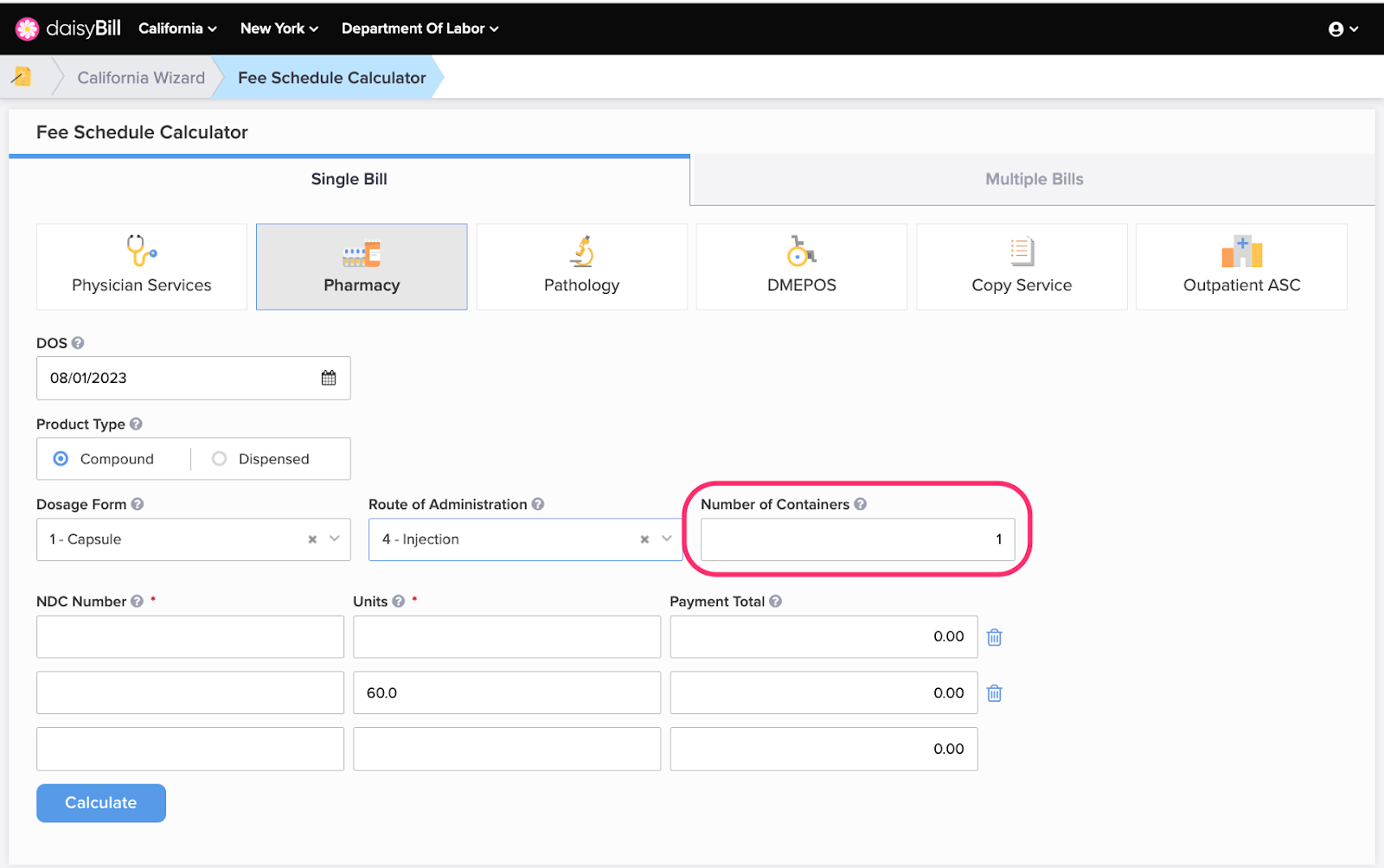 Step 7. Enter 'NDC Number'
Enter the 11 Digit NDC Number. See this guide for help converting 10 digit NDC numbers to 11 digits.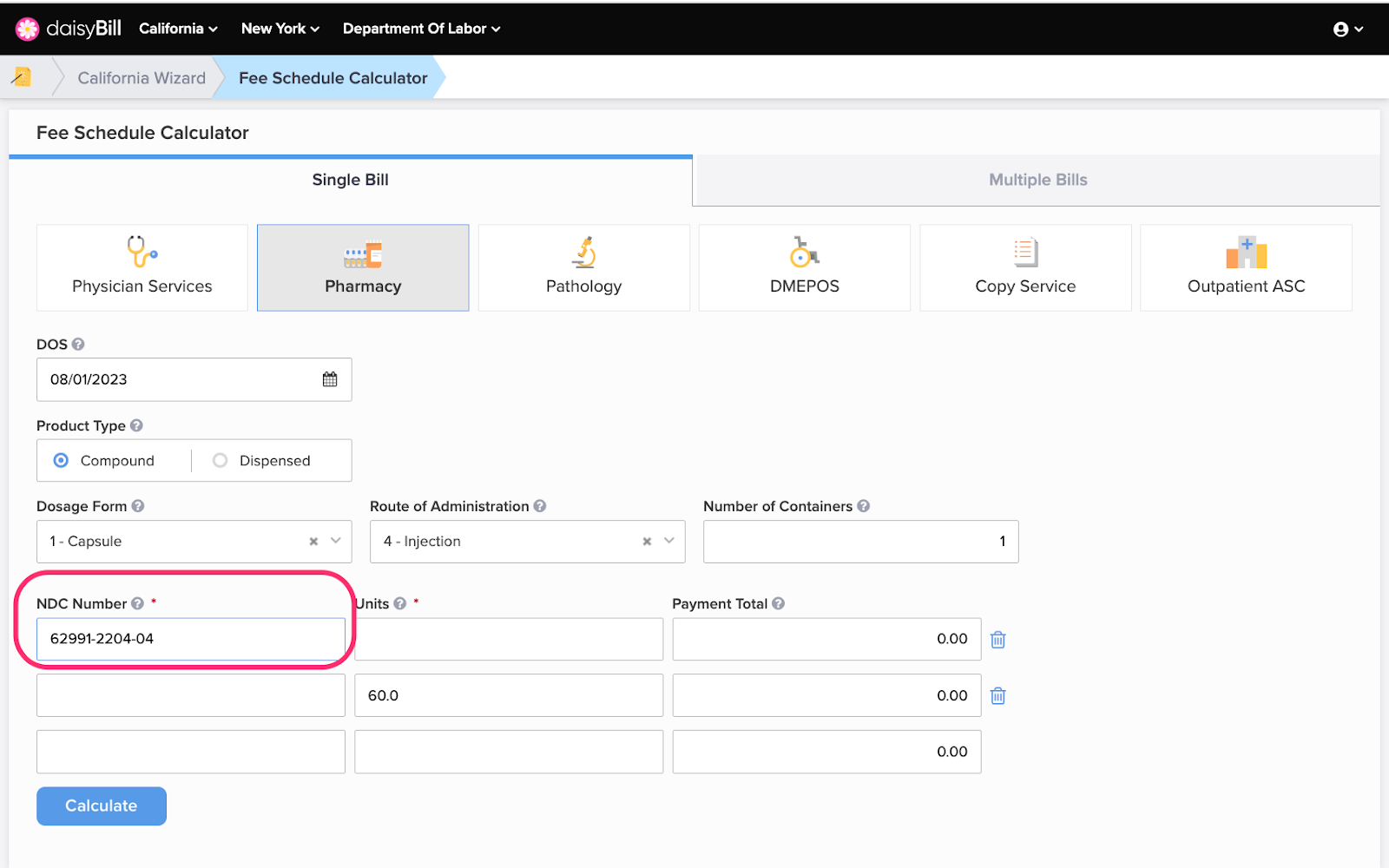 Step 8. Enter 'Units'
Enter the number of Units to represent the quantity of the NDC Number.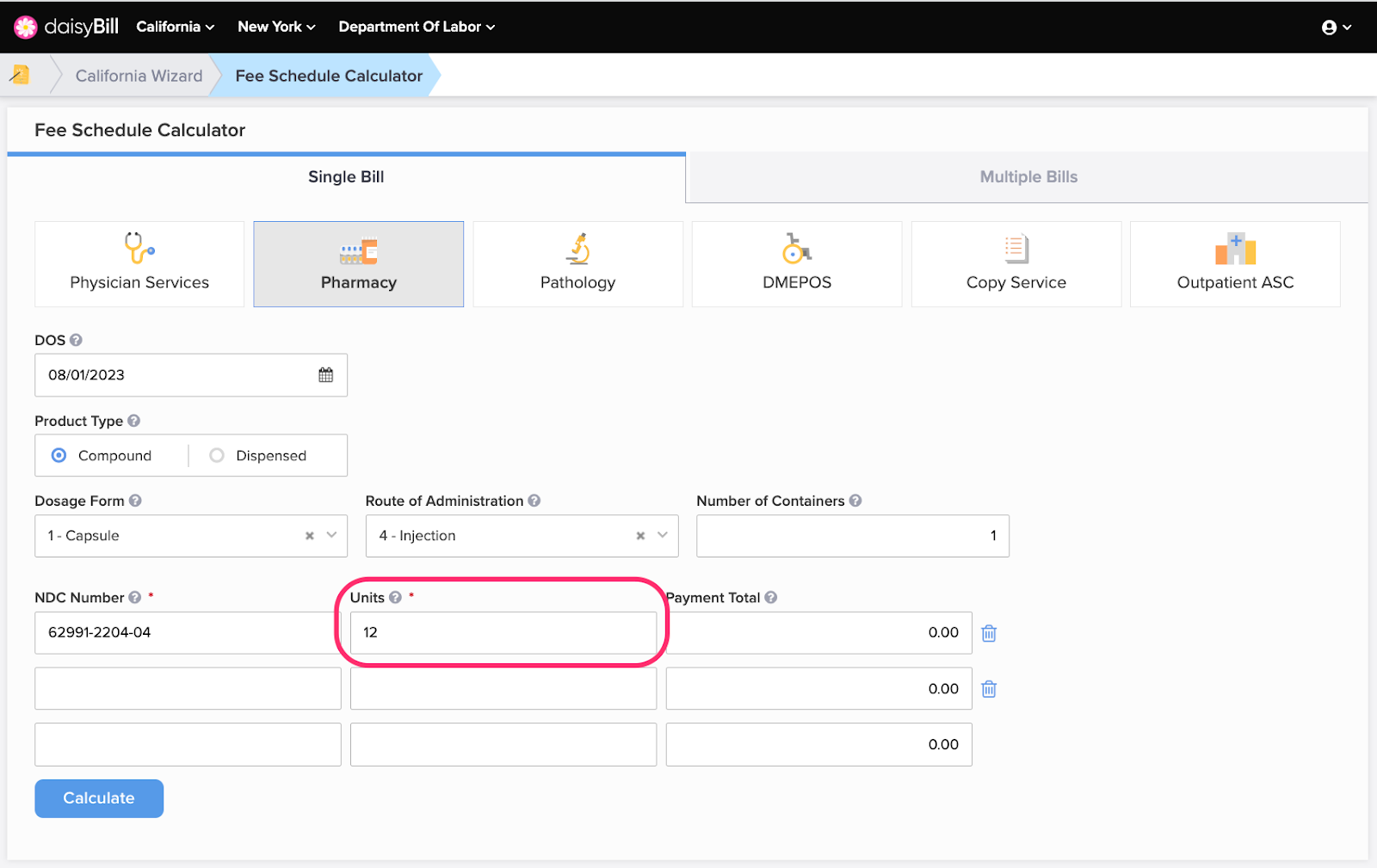 Step 9. Optional: Enter 'Payment Total'
Enter the reimbursement amount allowed by the claims administrator as reported on an explanation of review (EOR). If not provided, this optional field defaults to $0. The Payment Total amount is used to calculate the Expected %.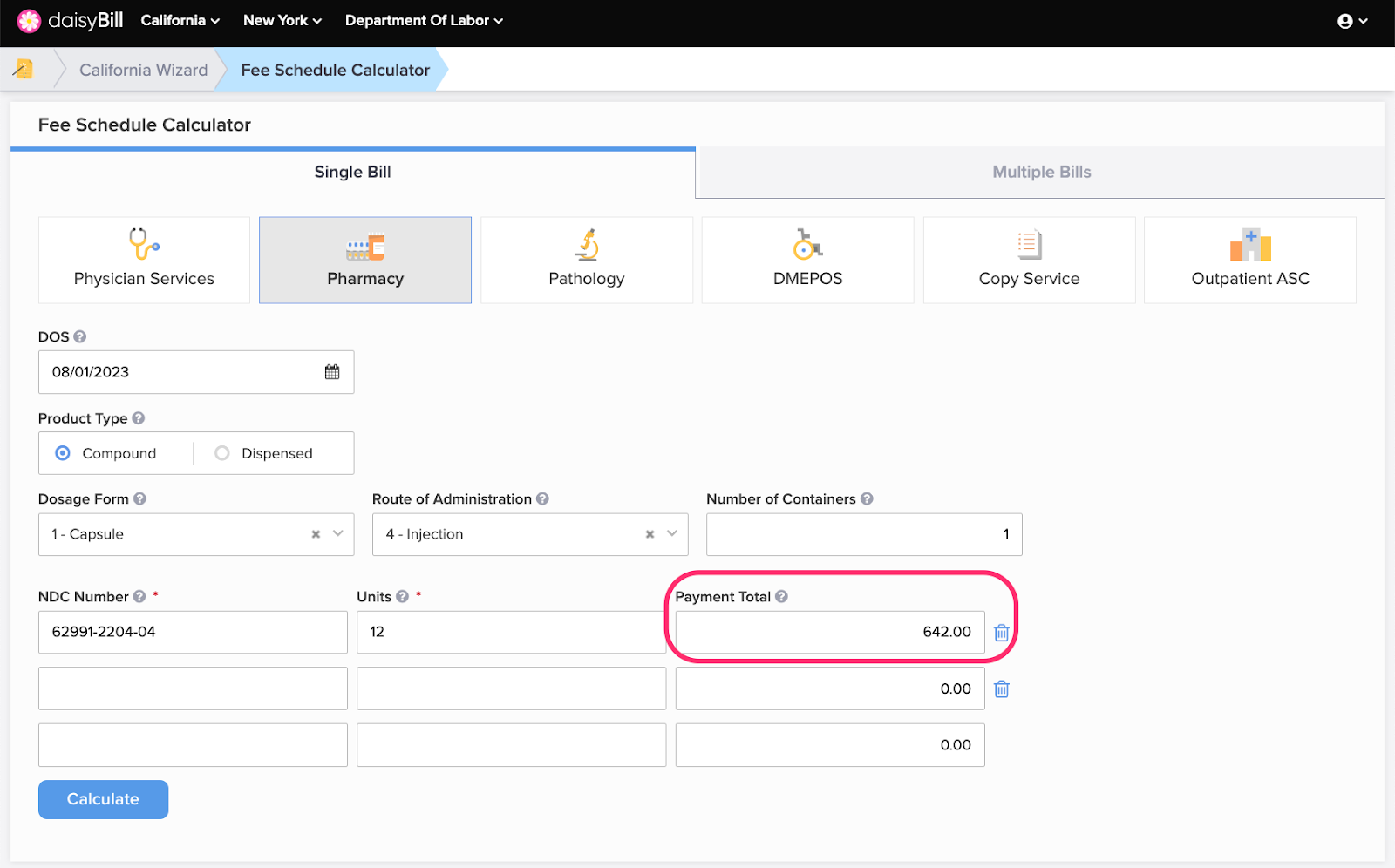 Step 10. Optional: repeat steps 7-9 for additional 'NDC Numbers'
Enter all NDC Numbers included in compound to ensure accurate calculation. Additional NDC Number fields will populate automatically.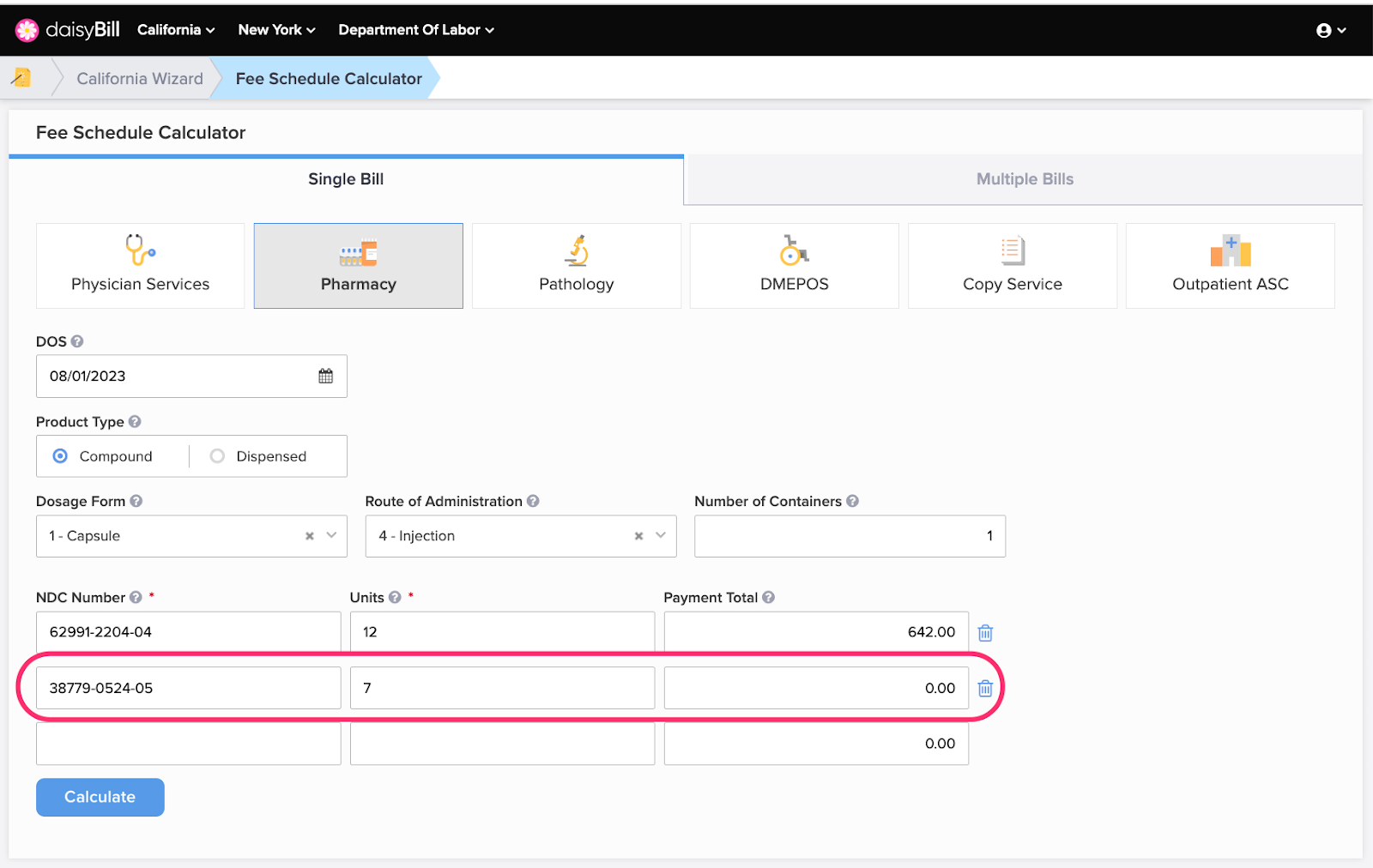 Step 11. Click 'Calculate'
Click the Trashcan icon to delete an NDC Number.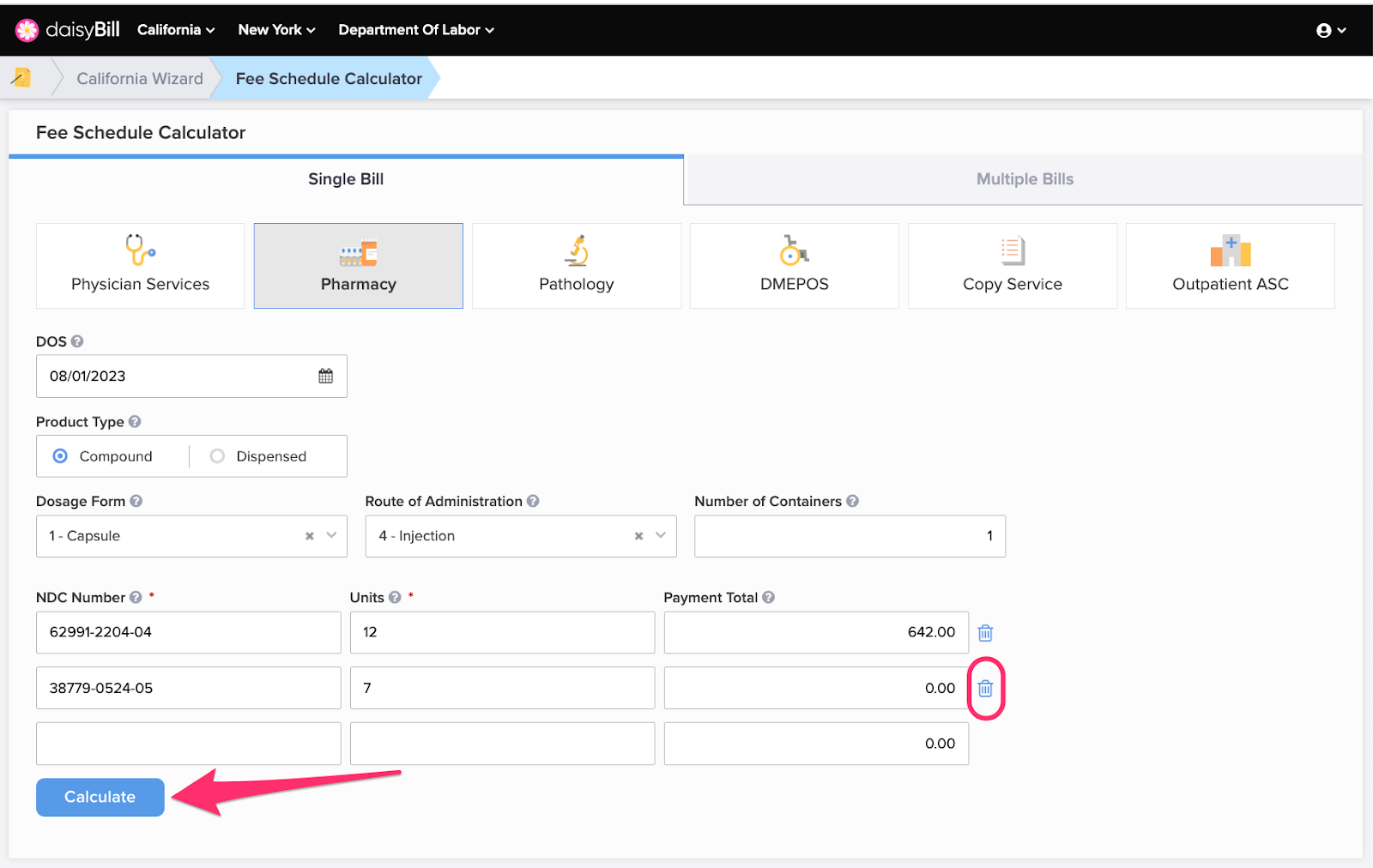 Step 12. View Calculations
For more information on calculations see the Help Article: California Calculator Results Explained.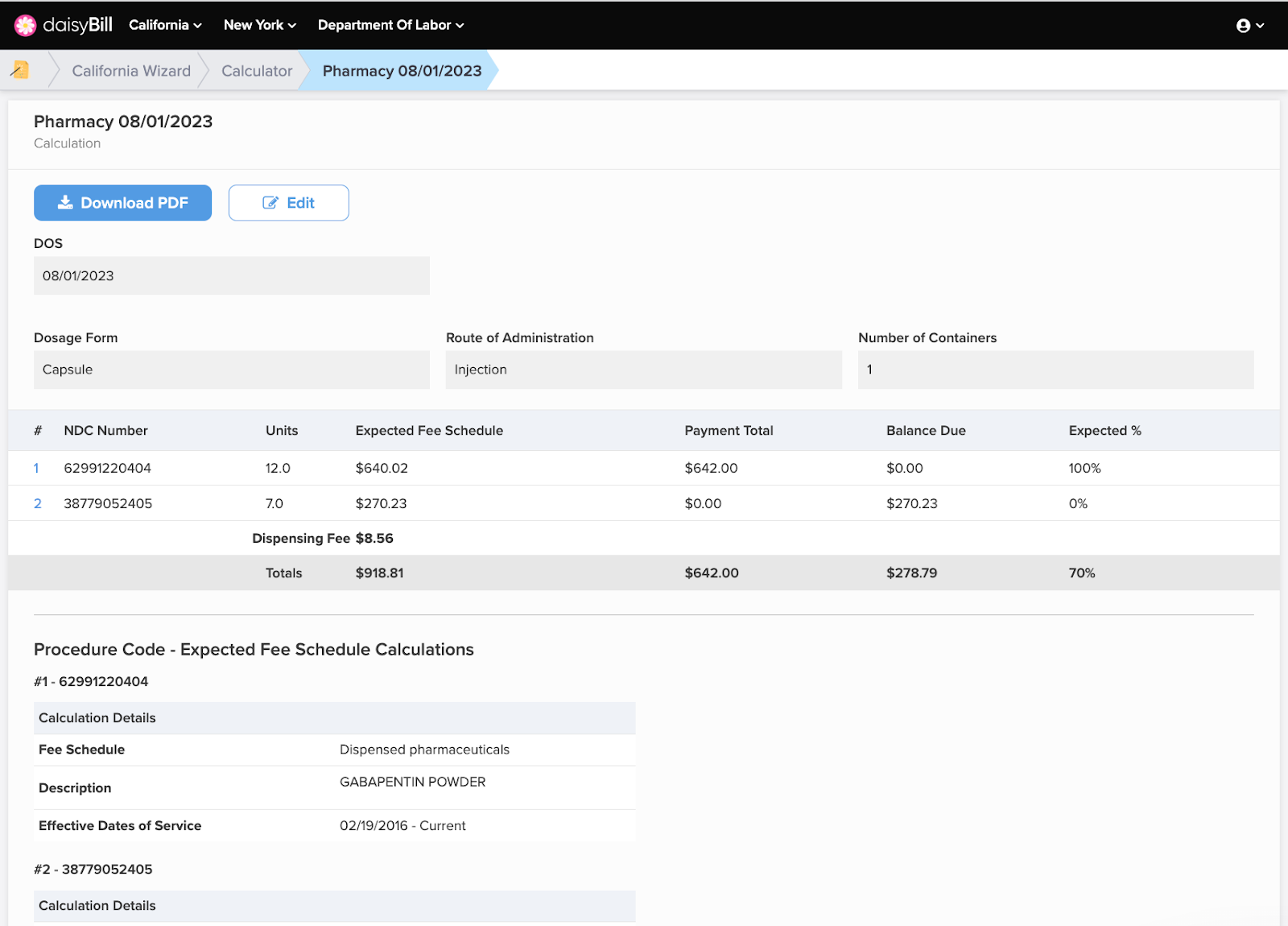 Onward!