daisyBill makes bill submission easy. Here's a guide to smart submission with daisyBill.
Step 1.  From the Bill, click 'Send'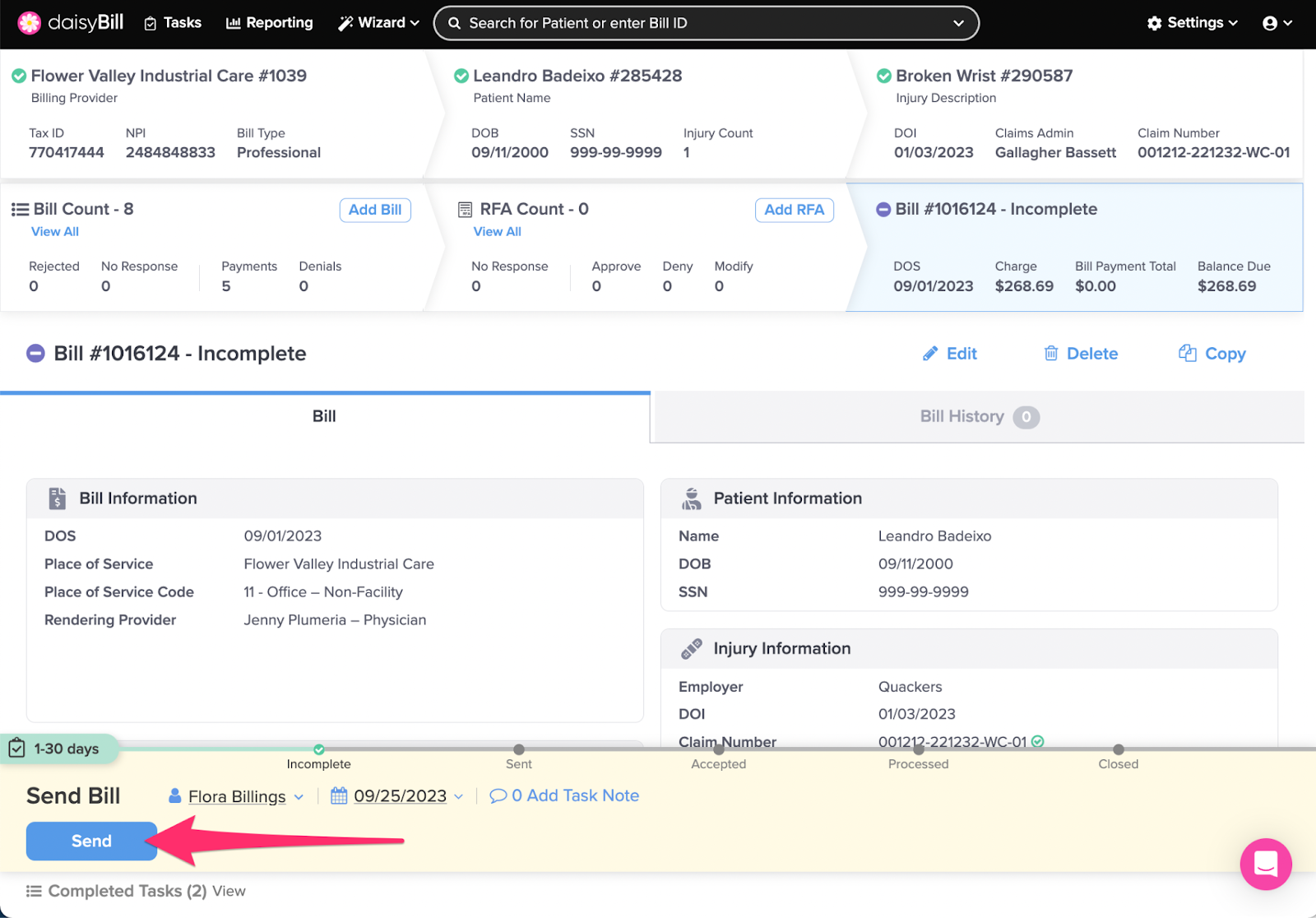 A.  Select ''daisyBill Verified Route'
'daisyBill Verified Route' is always the best choice. daisyBill's extensive database includes electronic, email, fax and mail routes for every claims administrator in California.  Our Compliance Team regularly reviews and updates daisyBill's routes. The destination will be provided in the modal of where the bill will be submitted to.
When you select 'daisyBill Verified Route' we automatically route your bill via the most efficient method for your bill submission type (Original, Second Review) and bill type (Medical Treatment, Pharmacy, Copy Service, Med-Legal, etc).  We know precisely the best way to get you paid the fastest.
B.  daisyBill Mail
When daisyBill's most efficient route is U.S. Mail, or when None is selected as the Claims Administrator, daisyBill providers a daisyBill mail option  
Based on the number of pages of the submission a mail surcharge may be applicable when daisyBill Mail is selected.  You are always notified of the surcharge prior to bill submission and given the option to submit the bill via an Alternative Bill Submission Method.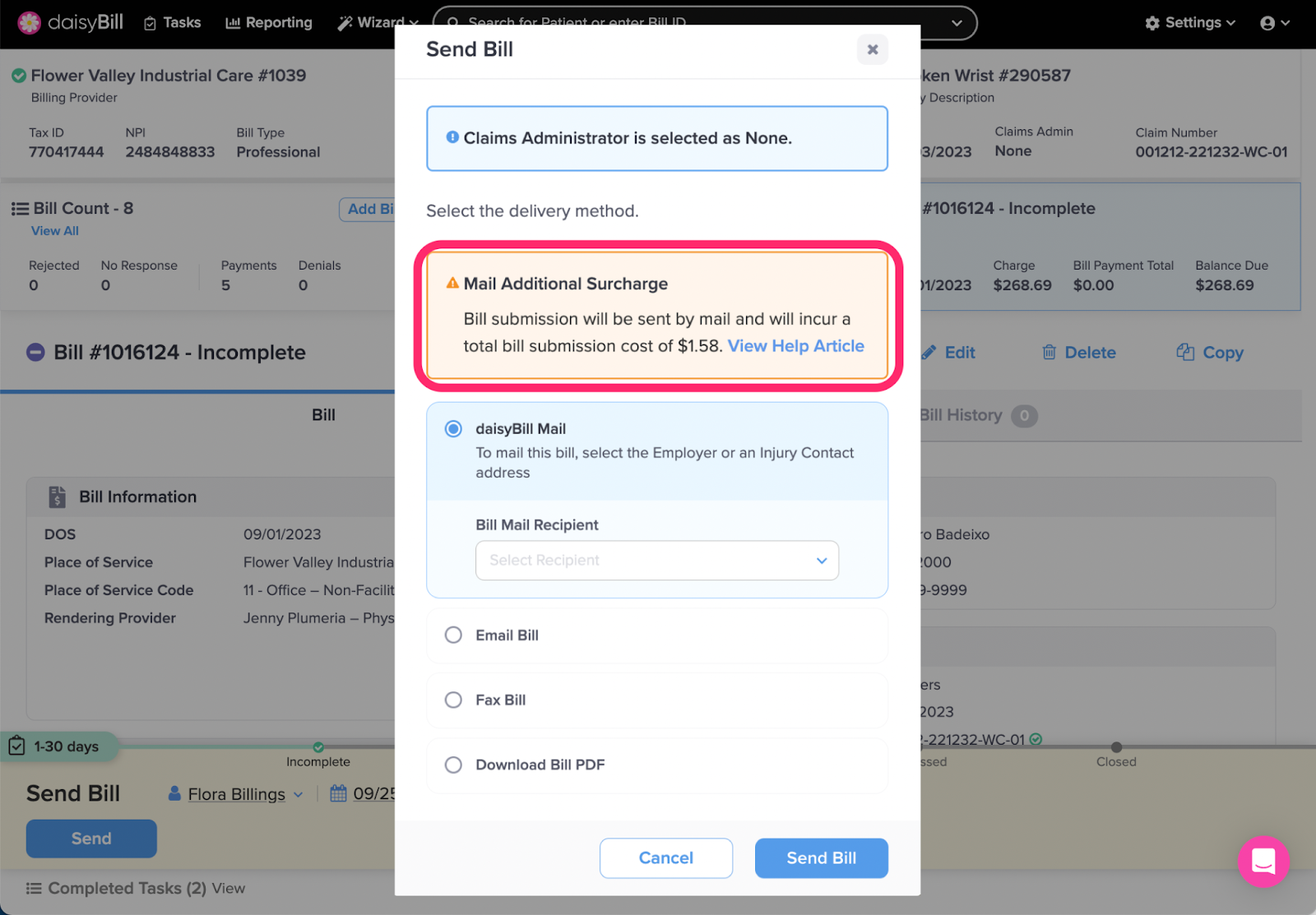 C.  Email
Select

Custom

 from the Send Fax To dropdown to enter the Fax Number and Attention name of a recipient for the Bill and Documents.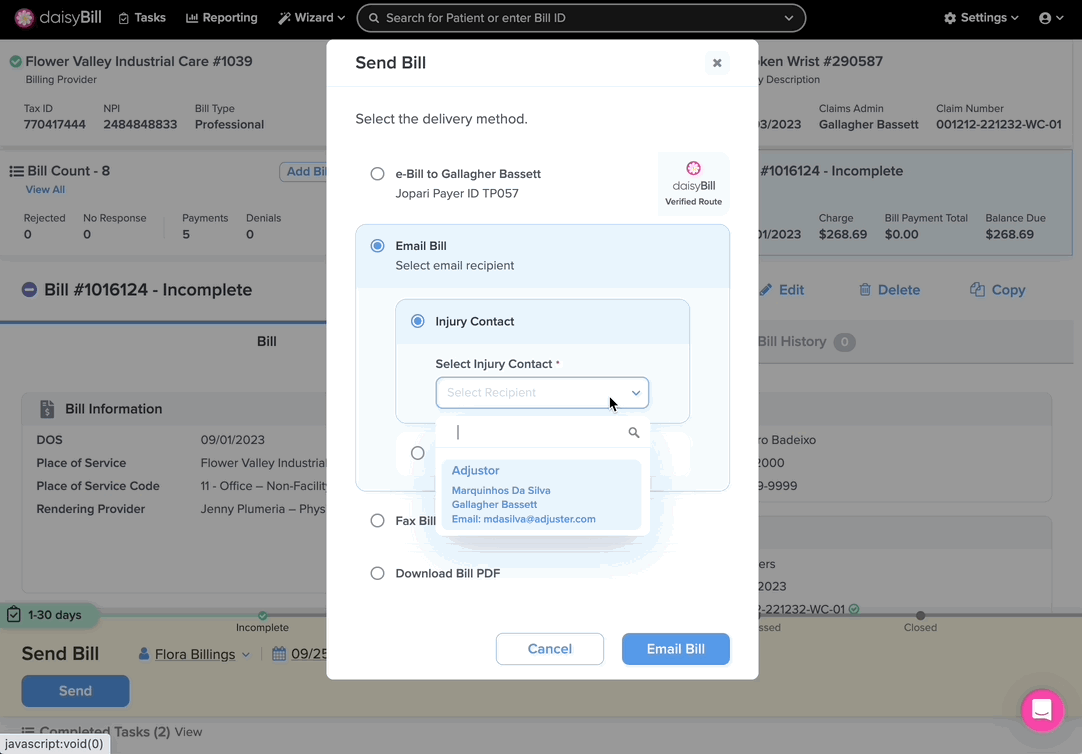 D.  Fax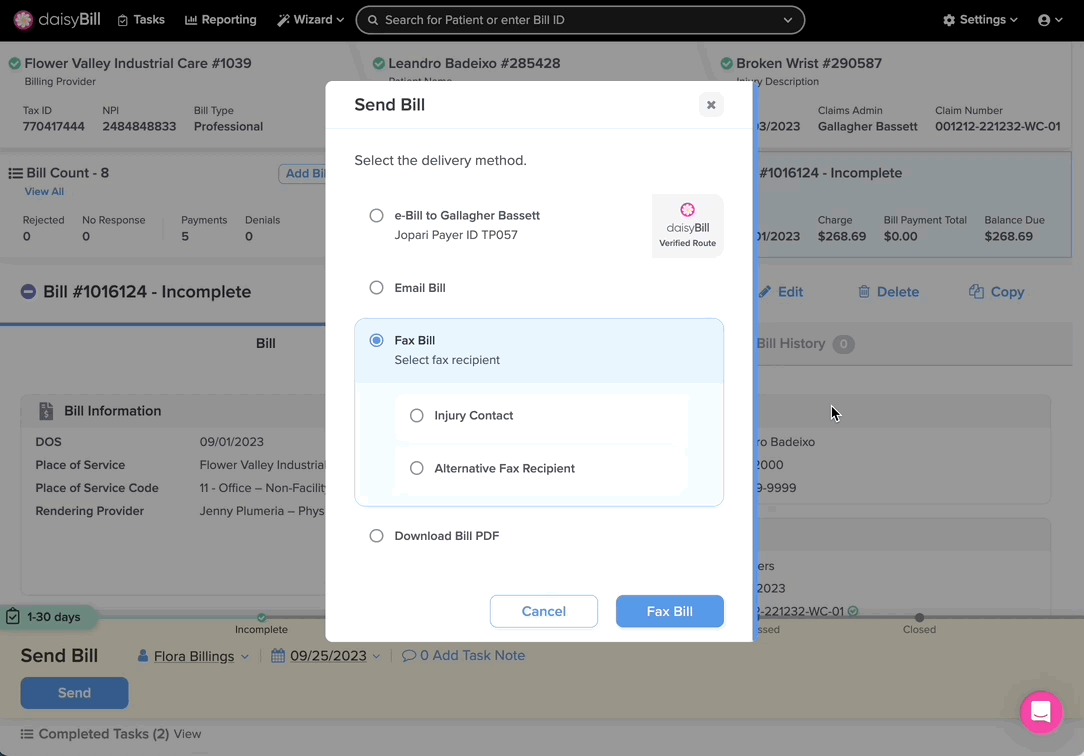 You can also select a contact that's already listed in the

Injury Page.

This will submit the Bill and Documents to the fax number listed for that contact. In the example below, the injury contact "Adjustor" is selected. The fax number will automatically populate the

Fax Number

 field. You can then add a specific recipient in the

Attention

field.  For more information on Contacts, see the Help Article:

Add, Edit, or Delete Contacts

.
E. Download PDF
Download PDF creates a downloadable document for mailing that includes Bill Form (NCPDP, CMS1500, UB-04 depending on bill type), Supporting Documents, and daisyBill's Bill Submission cover sheet. Simply select Download PDF, select the address from the dropdown of injury contact addresses, and click Download.
A .pdf of your bill will appear in a new browser window. Note: Your pop-up blocker must be disabled in order for this to work.
Don't see it? A copy can be found on the Bill History page.
And that's it -- Happy daisyBilling!